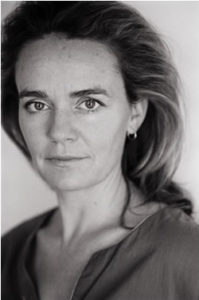 Justine combines being a writer and commentator with working at the grass roots in two fields that make many uneasy: conflict and the psychological damage of violence.
As a writer and journalist Justine has been writing on South Asia for twenty-five years. While doing this she simultaneously set up an organisation in Kashmir, North India, rehabilitating those suffering from the psychological fallout of conflict. In short, Justine works as both writer and mental trauma specialist.
As a journalist and writer she is the author of six books, ranging in subject from war to Hindi film. The Ochre Border, 1995, records the reopening of the Tibetan frontier-lands. Her second, Scoop-Wallah, 1999, is the story of her time as a journalist on an Indian newspaper in Delhi. It was short-listed for the Thomas Cook Travel Book Award in 2000 and serialised on BBC Radio 4. Goat: A Story of Kashmir and Notting Hill, 2000, is set in both Notting Hill and Kashmir, the juxtaposition of a warzone and a white hot corner of London, the disparate pair drawn together by the fashion world's obsession with the fine pashmina weave of the Kashmir Valley. This was also serialised on BBC Radio 4. Bollywood Boy, 2002, was an international bestseller about sneaking into the Hindi film industry to look closely at its fame culture, and also the darker side of an industry that pumps out high-octane escapism for an audience of over a billion. The Wonder House, 2005, is a novel set in Kashmir against the background of the conflict, and based on Justine's experience of frontline coverage, time spent in militant training camps, and amongst the extremists. It was short-listed for the Author's Club best first novel in 2006. In the Valley of Mist, 2009, a return to non-fiction, charts the first twenty years of the conflict there through the prism of Kashmiri family life. It was also broadcast on BBC Radio 4's Book of the Week, and it was Runner-Up for the Dayton Literary Peace Prize in 2010.  Justine's books have been translated into a wide range of languages, from Hindi to Serbian. She writes for The Financial Times, The Times, various Condé Nast magazines, including Vanity Fairand Condé Nast Traveler, and she also writes for The Times of India, and a wide range of other publications in India, the UK, and US
As a documentary presenter Justine started at Channel 4 in 1996 on the BAFTA-nominated series Urban Jungle. She has worked on several BBC strands in India for both BBC and BBC World. Justine was a presenter on Travel TV for four years before co-presenting for the BBC with Jerry Hall on a series about Eastern philosophy's journey to the West.
After the earthquake in Kashmir in October 2005 Justine linked up with a local NGO rebuilding homes, schools, and medical centres in some of the worst affected areas. This was when she began to work in rural clinics, hospitals and schools, treating trauma, and researching a mental health programme that integrated standardised traumatic stress treatments with local knowledge and systems. Having qualified as a psychotherapist, specializing in conflict trauma therapy, Justine founded Healing Kashmir in 2008, an integrated mental health project, based on her research, and aiming to address the debilitating mental health situation in the region. This project is now expanding, with a main base in Kashmir's summer capital, Srinagar, outreach centres around the state, a suicide helpline, a statewide primary mental health care and paramedic training programme and general mental health awareness programmes for schools and colleges, and an international internship programme. During her training in this field Justine worked with New Bridge in the UK for twenty-two years, a foundation focusing on the rehabilitation of life sentence prisoners before release. She also continues as an advisory director to the NGO in India that she wrote about in Goat. Development Research and Action Group sets up schools in slum areas of Delhi that have been over-looked by the government and bigger international agencies, usually due to the control of slum politics.
In addition to running the project in Kashmir, writing, and treating, Justine lectures regularly in the UK, US and India. Recent lectures include NHS Confederation Conference, Liverpool, The Oslo Freedom Forum, The San Francisco Freedom Forum, New York University (Gallatin School), Tufts University (Institute of Global Leadership) and The Royal Geographical Society (UK).
Justine is currently a residential INSPIRE fellow at Tufts University (USA) at the Institute of Global Leadership and at CHAT, The Center for Humanities at Tufts.  She continues to study Eastern and Western philosophy, psychology, and conflict trauma. And Justine teaches yoga on the side, having had the luck to study with some of the great Indian teachers when she was young.